One of the first steps of buying any car is determining how it'll fit into your particular lifestyle. This is especially true when Oneida, Rome, and Utica drivers are choosing between new and used options.
A pros and cons list can be a huge help in coming to an informed decision. And the Nye Ford team is here to help you put one together.
The Used Car Buying Experience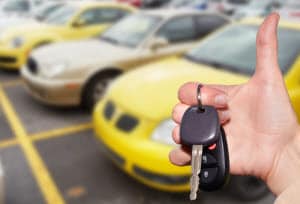 Used cars have long been considered the best choice for the thrifty. However, these cars are great for any budget! Some people just prefer a car that's already gone through depreciation. And if you choose the right seller, such as a reputable dealership, they're bound to honor the value properly.
Of course, it's not just the depreciation that you're avoiding with a used car. New vehicles come with some pesky hidden charges, like registration fees and sales taxes. However, you won't have to worry about that. You may not even have to worry about several maintenance items if the car still has a bit of its warranty left!
Regardless of these great benefits, though, there are a few cons you should be aware of. For example, buying used might mean buying as is. Your standard dealership will definitely inspect and refurbish the car when it comes into their possession, but if the previous owner didn't take proper care of it, there's no telling what kind of wear it may have incurred.
Check out our extensive list of used cars here!
The New Car Buying Experience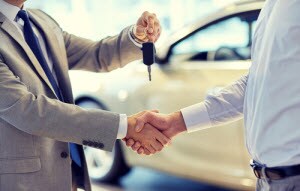 There's nothing quite the bliss of getting behind the wheel of your new car for the very first time. From the feel of the leather seating and that powerful engine right down to the very smell of it-the feeling is unparalleled.
For the first few months, it might seem like nothing will ever go wrong with your new car. Of course, to keep it that way, routine maintenance is an absolute necessity. Fortunately, most of this will probably be covered under your comprehensive warranty. Isn't that nice to know? Keeping it in shape will be a breeze for the first few years. Then, you'll even have something extra valuable to trade in.
Granted, by the time you do trade in, it's guaranteed that you'll have lost some of the value. As a matter of fact, the moment you first drive off the dealership's lot, you're going to lose just over 10% of the car's value. This is unavoidable, but you can head it off with the right care.
Check out our available new inventory page if you think purchasing a new car suits you best!
Do You Know Which Is Best for Your Lifestyle?
When it comes to choosing between used vs. new, there's no one-size-fits-all answer. The needs of individual Oneida, Rome, and Utica drivers are where the answers lie.
Do you think you'll need more help coming to a decision? Out team at Nye Ford is more than happy to help. Contact us today online or over the phone, and we'll help you choose.